Evidence and Values For A New Age
GHost III
Friday 17th December, 6 – 10.00pm
at St. John Church on Bethnal Green, 200 Cambridge Heath Road, E2 9PA (right next to Bethnal Green tube)
The exhibition can be viewed throughout the night 6pm – 10.00pm and the film screenings in the nave start at 8.30 pm.
GHost is here once more, with another unforgettable night of artist films, performances and moving image interventions to celebrate the darkest days of the season and to welcome in the ghosts that inhabit them. In the lofty shadows of this atmospheric John Soane church, hosts and guests become GHost-hunters bedazzled by artist films on a movie-sized screen in the nave, and haunted by moving images, transmissions, interventions and performances in the foyer, belfry and beyond...
Warming seasonal drinks will be served.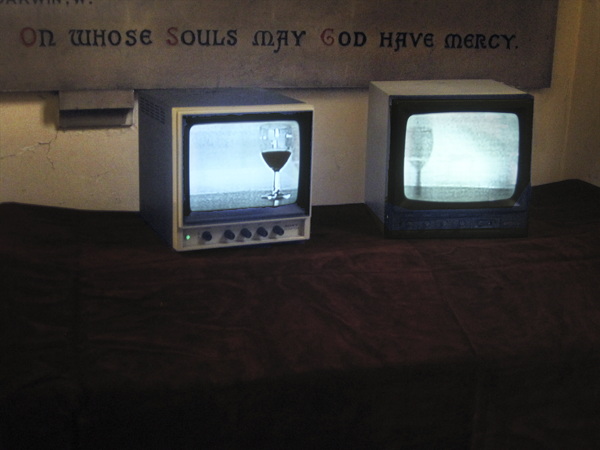 Artists..
Nichola Bruce, Gail Burton & Marc Vaulbert de Chantilly with The East London Secular Choir, Antonia Carrara, Jo David & Alex Baker & Kit Poulson, Rebecca Feiner, Romeo Grünfelder, Michelle Hannah, Simon Hollington & Kypros Kyprianou, Theo Kaccoufa, Miyuki Kasahara, Output Arts, Matt Rowe, Manuel Saiz, Sabine Schöbel, David Secombe & Andrew Martin, Sarah Sparkes, Kate Squires, Ricarda Vidal, The Reverend Marc Vaulbert de Chantilly, The Phantom Organist, The Daughters of Gef, Neil Wissink
GHost is led by Sarah Sparkes and Ricarda Vidal
websites: www.host-a-ghost.blogspot.com or www.ghosthostings.co.uk more information: ghost.hostings@gmail.co.uk