Neodymium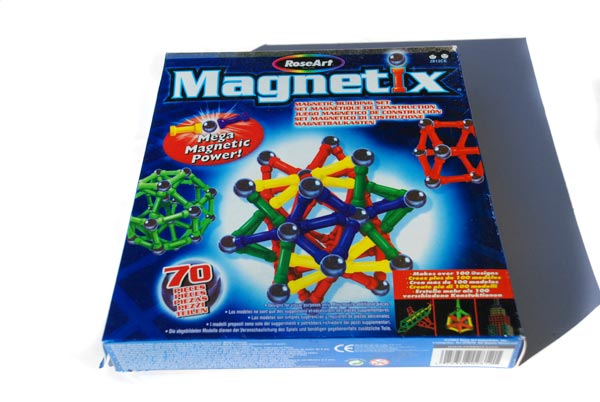 Children attracted to toys warning
The "Magnetix" toy was bought from a stall at Redcar that sold this single line of this product only. This is unusual behaviour for a car-boot sale. The general behaviour patterns fall into 3 types – personal house clearance, professional vendors and the in-between antique brigade. This guy was selling just one line of a product. Pile 'em high and sell them cheap. Where could this bargain have come from? As if to prove that there really is no such thing as a free lunch, after a little research from the comfort of my armchair, whilst listening to music on a neodymium containing ipod,
I found that a mass recall of a certain brand of Magnetix had been in effect. The reason was that a couple of children had eaten the pieces, which are made of very powerful neodymium magnets, and had done themselves in as the magnets had attracted themselves to each other inside the bodies of the children.
This construction toy is imported and sold by Rose Art Industries, Inc. (a subsidiary of Mega Brands, Inc.) a company based in New Jersey. It uses small plastic building pieces that have powerful neodymium magnets built into them at the ends allowing you to connect the pieces together with metal balls. I myself must confess to being addicted to the properties of neodymium, ever since 2003 when Simon and I were on the hunt for ways in which to make a wineglass move around a table (until you looked at it). Here, however, they're not billed as being part of the arsenal of the recreation of Victorian séance tricks, but as a childrens toy (age 3+). And Magnetix was nominated for 2005 Activity Toy of the Year by the Toy Industry Association.
One can assume that a rush on these toys means many tears before bedtime come Christmas when the last bit of neodymium has been sold, but in some cases the tears are at dinnertime, or more precisely, when a child eates one of the loosened magnets. A couple of incidents like these led to the Consumer Product Safety Commission on March 31, 2006, ordering a recall of all Magnetix magnetic building sets. The official CPSC recall notice (http://www.cpsc.gov/cpscpub/prerel/prhtml06/06127.html) was
issued after one death of a small child and four serious injuries requiring surgery. Not that you'd know it from RoseArts website, which seems to have stopped advertising the fact. I feel that there is some responsibility for them to keep people informed, people like me, obsessed by magnets, and who buy them secondhand in possibly defective toys from car-boot sales, from e-bay or charity shops.
I have asked them if my version is one of the defective ones and await a reply. More prominent labeling may allow persistent second-handers like me to avoid death by choking "Consumers should stop using recalled products immediately unless otherwise instructed," according to the recall notice.
On April 19th, 2007, the CPSC ordered further Magnetix recalls
recalling over 4 million sets. "To date, CPSC and Mega Brands are aware of one death, one aspiration and 27 intestinal injuries. Emergency surgical intervention was needed in all but one case. At least 1,500 incidents of magnets separating from the building pieces have been reported. ... If a child swallows more than one tiny powerful magnet detached from the plastic building pieces or one such magnet and a metallic object, the objects can attract to each other inside the intestines and cause perforations and/or blockage, which can be fatal, if not treated immediately."